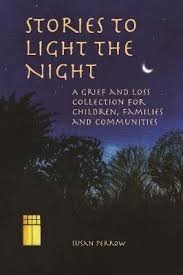 Susan Perrow's new book Stories to Light the Night is now published. The library has many of Susan's books in our collection and we have had Susan visit the school and give parent and teacher talks several times. We have a copy of her latest book. It is the Front Office for a few weeks to give people an opportunity to browse through it before it goes to the library.
Tjenka Murray our incredibly talented craft teacher is one of 34 contributors to Susan's new book. This makes it an even more highly anticipated new addition to our collection.
This title and Susan's other books can be found in bookshops and online. Susan also has her own website, Instagram account and and Facebook page.
Susan also publishes some of her beautiful stories on her website page under the Stories section. She currently has a collection of her stories relating to the Covid-19 Pandemic, some of them even have accompanying animations. You will be sure to find something there for everyone, from the very young, through teen to adults. Click here for an example 'A Light for the Little Gnomes Lantern.'