Class 2

Class 2 builds on what was learnt in Class 1. The children can now concentrate for longer periods of time and are more able to develop their own pictorial images. The Class Teacher, returns at the beginning of the school year to be with their class, ready to provide them with the added challenges of Class 2. The children are eager for adventure and delight in stories such as The King of Ireland's Son and tales of North American Indian or Celtic heroes.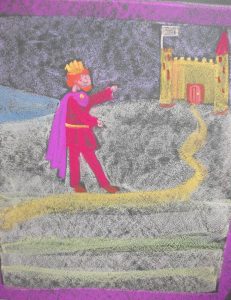 The children are now writing more independently and begin taking part in the school's Home Reading Programme. Children who have been identified by the Class Teacher or the Learning Support Teacher as needing additional support will be given one-on-one or small group Literacy Intervention.
Maths is becoming more complex in Class 2 and again children who have been identified as needing intervention will get the necessary extra support. Four Maths Main Lessons are presented over the course of the year and regular Maths practice sessions take place each week.
The Class 2 children are alert and keen, while still absorbed with the world around them.  They can begin to become sceptical about the magic of the curriculum and learning that so captivated them last year.
As folk stories give way to myths and legends the children are told local Aboriginal legends and Pacific Rim myths. The children learn about human strengths through stories about the Saints and human frailties through animal fables.
Music lessons continue as part of the weekly programme, along with whole class recorder lessons.  The children extend their knitting prowess and learn to crochet in Craft.
Steiner gave indications of how children develop spiritually and emotionally and used this to guide his curriculum and teaching methodology. These teacher notes on the Class 2 Child offer more insight into these.