Class 4
The Class 4 child is energetic and eager to learn more about the world. They are ready for new interests and are keen to understand the interconnectedness of systems. Our Main Lessons are designed with this in mind.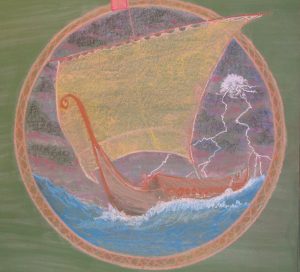 The Class 4 Curriculum, includes:
The study of Man and Animals with an excursion to Mogo Zoo
Marine studies and the History of Whaling at nearby Eden
The Study of the Water Cycle
Local history, both indigenous and settler
These topics help the children to understand their local area, while studies of the History of Numbers and the History of Writing give them a better understanding of human development. By Class 4 they are firmly 'reading to learn, not learning to read'.
In Mathematics the children are introduced to fractions. This Main Lesson involves lots of eating and lots of fun!
Stories from Norse Mythology with their mood of strength and playfulness enliven the school year and culminate in a class play based on one of the Norse myths. The children provide the music as well as act the parts.
Steiner gave indications of how children develop spiritually and emotionally and used this to guide his curriculum and teaching methodology.
These teacher notes on the Class 4 Child offer more insight into these.