Class 1
At Mumbulla School the first year of 'formal school' is such an exciting year. For the first time the children are sitting at their own desks for part of each day while becoming absorbed in the experience of more formal learning.
Our syllabus carefully covers the NSW Education Standards Authority (NESA) Key Learning Areas (KLAs) while simultaneously achieving Steiner Education outcomes in an artistic and enriching way that engages the children's enthusiasm, feelings and imagination.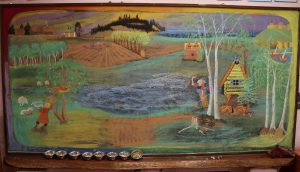 The Class 1 children are taught to write their letters through imaginative stories and then, through their own writing, taught to read. The school day is filled with meaningful activities that appeal to six and seven year olds and is interwoven with archetypal stories from the world's oral traditions; stories that nurture the children's sense of wholeness and goodness.
The Class 1 day has a strong rhythm and starts with Morning Circle including games, songs, movement and verses. After a sociable news sharing, singing and fruit-break, the day's main work begins. This is called the Main Lesson, which is an integrated thematic block of work that runs for 3-4 weeks. The day's longest lunch break takes place after Main Lesson and is followed by the middle or practice sessions when we practise what has been learnt in previous Main Lessons. Our afternoons are usually dedicated to imaginative play and our day finishes with a story and a goodbye verse. Class 1 also have French, Music, Craft and Library, painting, wax modelling and nature walks interwoven throughout any given day.
Steiner gave indications of how children develop spiritually and emotionally and used this to guide his curriculum and teaching methodology.
These teacher notes on the Class 1 Child offer more insight into these.