Class 5
Steiner often referred to this age as the Golden Age of Childhood. In Class 5 the children are growing into themselves, becoming more self assured and capable.
One of the highlights of the year is travelling to Canberra to take part in an inter-Steiner School Olympic Games.  Children hone their skills in the Ancient Olympic arts of javelin, discus, long jump, wrestling and running (including a mini marathon).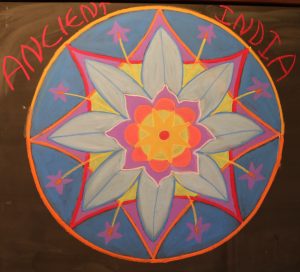 The Olympics Camp comes as the culmination of the study of the ancient civilisations of India, Persia, Egypt and Classical Greece. The stories take on a more historical perspective to meet the children's thirst for knowledge of the wider world, their growing reasoning skills and their desire to understand the relationship between humans and their environments.
Nearer to home, the children study Australian History and Botany. In Maths they are introduced to formal Geometry.
In Music, they either continue with their stringed instrument or begin to learn to play a brass or woodwind instrument for the next two years.  Every two years Classes 5&6 embark on a Music Tour, travelling throughout the local region and Canberra performing for other schools.
Steiner gave indications of how children develop spiritually and emotionally and used this to guide his curriculum and teaching methodology.
These teacher notes on the Class 5 Child offer more insight into these.